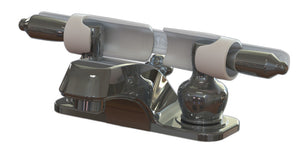 SafeHolmes
Faucet Handle Restraint
Sale price Price $21.95 Regular price
EXT.- Tub: Faucet Handle Restraint
Sale price Price $24.95 Regular price
Extended Width Tub Unit
Hand modified by using (2) Zip strips that are tethered together with a zip tie, expands the width of usage for the Faucet Handle Restraint.
Allowing it to be used with Tubs and wider faucet units.
PARENTS AND PET OWNERS ABSOLUTELY LOVE THIS UNIT!
Crafted with care. Made in the USA.
The only in-home faucet handle retention item in the market.  Designed as a deterrent to help restrict small children from turning on a faucet handle & preventing water accidents.
PATENT:  US 9,534,703  B2
Why SafeHolmes?
When I became a parent and my son was almost 3 I left him to put something in our kitchen for literally less than 2 minutes when I heard the sound of running water. As I ran to the back room, I found that my son had entered our bathroom and turned on our bathtub faucet and was falling into the tub when I grabbed his leg. From that point on I decided I was going to create a product that would prevent situations like this from happening in any household.
And since that time I've heard similar accounts (some turning out good and some not so good), which has been the catalysis that has sent me on this mission to educate care-givers about safe-guarding their homes and thus helping to prevent these occurrences.
The Ultimate Solution
*** FAUCET HANDLE RESTRAINT IS USED AS A DETERRENT FOR TODDLERS ***
*** PARENTAL CARE IS ALWAYS ADVISED ***
***  RESTRAINT WILL BE STIFF TO HELP SECURE UNIT ***
Depending on your style faucet handle, included with the unit are rubber wrapping bands. They help give more resistance and security between the handle and our unit. This isn't shown on our videos. We'll be making new ones soon. ;)
Easy on, easy off Faucet Handle Restraint
Stops pets also...
Pet owners love this product
Tired of finding your water faucet dripping of water, because your pet has turned it on, causing extra cost in the water bills, and potential water damage?
Well, no more worries.  We've got that covered.
Samples of Faucet handle styles that fit and don't fit
Examples of general styles of handles that will fit the Faucet Handle Restraint.
DOES NOT work well on faucet handles with rounded corners.
Please check specs for more details
View Specs
"All licensed childcare providers should be required to use this type of product in childcare facilities. It would ease a parent's mind and prevent dangerous situations for children!"
"With the support of families and childcare programs, this product could potentially alleviate the dangerous potential for young children being severely burned."
"Keeping children safe is important because it only takes seconds for them to get unintentionally hurt.  I'm glad SafeHolmes is leading the charge in keeping homes safe for kids."
"There are products that make claims and then there are products that exceed expectations. For the money these are a great set of products.
"I love that you create products that help keep kids safe!"
"It (the safety restraint) is to the point and makes perfect sense.  Very good.  Looks like a great product that I've never seen before.
… the product is relevant for the serious problem you are trying to solve.You are very talented.  Great job!"